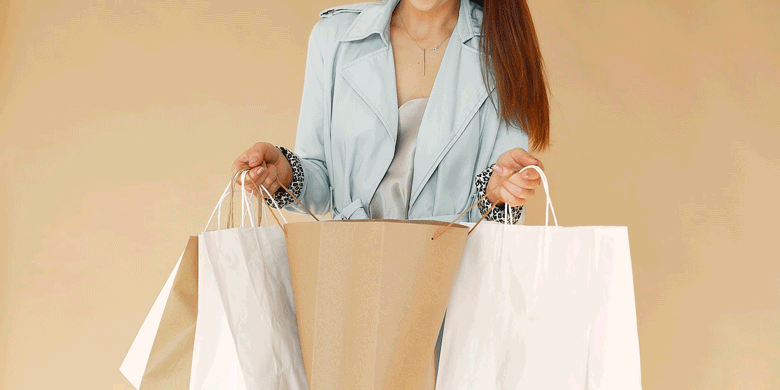 11 May, 2022
Custom Boutique Shopping Bags To Make Your Brand Come Alive
Part of the shopping experience is not only purchasing a product but also how it is packaged. For any retail store looking to give their brand an advantage, this can be done through custom boutique shopping bags. How many of us have spent good money on an item of clothing, to have it wrapped up and placed in a boutique bag with classy foil print on the outside, giving the name of the shop you have just been to? How does that make you feel when you walk out of the shop and carry the bag by your side? I know exactly how it feels – you feel special – and you are hoping everyone who passes by sees your bag, so they know where you have been.
As a store owner, you might think the biggest part of promoting your brand is the actual sale of the item. This is true, but another important part is the after-sales care and one big factor in that is how you package your goods. It is a time to give brand reinforcement to the receiver and an opportunity for you to advertise to the general public. Below are just some of the benefits to consider when using boutique shopping bags to package your products.
1. Brand Reinforcement: A customer has just spent a lot of money on one of your products. It might be a garment, perhaps some jewellery or a new high-tech device. The customer feels happy. They have purchased a very nice product and feel proud of this. To help enhance their experience, this is where nice packaging comes in. Imagine someone just spent $2,000 on a ring. You put it into a nice branded box and then pop it into a brown paper bag for them to carry out. How would that make the client feel? They just spent all this money and they get given a plain paper bag. Now rewind and that same customer's ring is placed into a small boutique bag. It has rope handles, solid construction and a foil print on the outside with your shop name and logo. This just reinforces to the client they have bought something special and reinforces to them, that your brand is worth buying.
2. High Visibility: You've seen the movies where the girl comes out of a shopping spree, bags hanging from her arms and all the bags have distinct logos on them. This is an opportunity for you to advertise your brand for free outside of your shop. The trick is to use a bag that will catch people's eyes. We prefer a lot of contrast and clean, big, bold and simple branding. A deep gloss black or navy blue bag with a silver or gold foil is absolutely perfect. Don't get too caught up in trying to put a lot of information on the bag. Keep it simple. Logo and name. That's it. If you do this, it makes it easy for passers-by to see the name. Also, the quality of the bag will have a subliminal effect on others. They will assume your shop only sells quality products based on the packaging you have put the product in.
3. Positive Shopping Experience: If you choose paper boutique bags it will also give your customer a more positive view of your company with respect to the environment. Paper bags are recyclable, reusable and a great deal more eco-friendly than plastic bags. You can create an eye-catching design that gives your brand uniqueness. This also helps cement in the customer's mind their money was well spent. Nobody wants to feel like they haven't received value for money and when it comes to high-end gifts, this is especially important. A beautifully crafted boutique shopping bag will ensure this is reinforced for them.
There are so many ways that boutique shopping bags can help your brand and brand identity. It reinforces to the clients they have shopped and purchased something special and that it is appreciated by the store. If you would like to start using this type of packaging for your store but are unsure what would work best, then contact us. We can work within any budget and can give great guidance, so don't hesitate – to contact us now.
The Promotional Bags Team