How Our Eco Bags Can Help Out The Environment
Made from non woven fabric material, our enviro friendly reusable bags come in many colours such as black, navy blue and royal blue. The great thing about these bags is that you can use them anywhere you want e.g. going for your weekly shopping, conferences and/or trade shows to help potential clients to hold your catalogues and samples. Every time your clients use these bags, they will be advertising your business which will help you be noticed by the public. With strong overlock stitched short handles and a sturdy base board, enviro friendly reusable bags are perfect promotional bags.
We should realise that having a reusable enviro bag helps our environment on many levels. A plastic shopping bag takes up to 15 to 1000 years to decompose. Only 1% of our plastic bags are recycled, the rest are left on landfills. Australia alone uses 100 billion new plastic bags per year, and the average person goes through 500-1000. By ordering our reusable enviro bags, it'll help our planet and your business. Order now!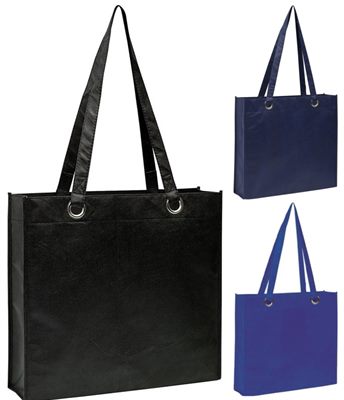 22 April, 2015
The Promotional Bags Team