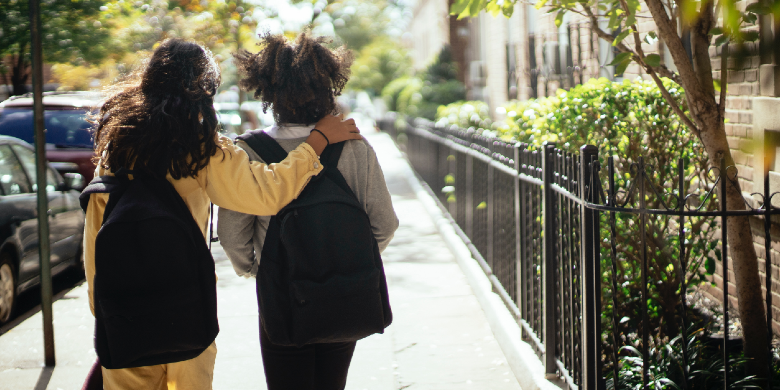 6 December, 2021
Promote Your School With Branded Kids Backpacks
One great way for schools to add something extra to their uniforms is to offer branded backpacks with the school logo. They make it easy to identify the kids going to their school, plus it gives some consistency to the school branding.
Picking the right kids backpack, they can take to school is very important. You want to make sure it is not too big, is supportive of their back, comfortable to wear and lightweight, but robust to fit all their homework. So, let's go through these different aspects so that you can make the right choice for your school.
The first option to choose is whether you want to get a sling style or standard twin shoulder straps. The best is twin shoulder straps as it distributes the weight evenly on both sides, whereas a sling style backpack can put the weight more to one side rather than the other.
The next important part of the backpack is the support. There are several areas you need to look at. First, the straps themselves need to have padding at the top to help give support over the shoulders and be adjustable. If possible you want to check for padding or contour shape to the back of the bag. This will help give support in the lower back area which is important for growing children.
Another important aspect is the material. There are some very cheap backpacks available, but they are usually made from very lightweight polyester or nylon that can either tear or rip with use, especially if they have been packed with heavy books. Try to look for "rip-stop" material as this is much more robust or get a minimum 600 Denier weight. If you can get the backpacks with either of these qualities, they should be robust enough for anything the kids might do with it.
It might sound like a simple thing to look at. Still, the capacity of the backpack is important, along with the little additions such as a side drink bottle holder, perhaps some reflective trim on the bag, mesh side pockets for bits and bobs, maybe an inner pocket with ear bud hole they can put their phone in to listen to their music safely. You want at least one large zippered main compartment, but you might want a second compartment for them to help divide books to perhaps their sports clothing or laptop bag.
Lastly, make sure the front area has a big enough space for your school logo. The best branding for a backpack is embroidery, as it will last the life of the backpack. You can also get screen printing or full colour transfers and they both work well, but if you want the branding to last the life of the product, embroidery is the best way to go.
If you are still unsure what style of backpack would work best for your school, contact us by email or phone and we'd be happy to help with suggestions.
The Promotional Bags Team